Welcome to our online store. Click on the images below for more info.
Vine Maple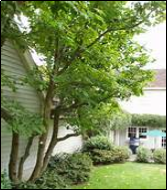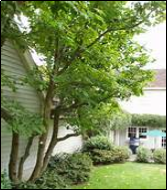 Description
The Acer circinatum is a deciduous native often grows to 25 feet tall but is generally 10-20 feet in height, taking the form of an erect tree (often with multiple stems) or a tangle of branches creeping vine-like along the ground before turning upward. Branches are usually green or slightly reddish. Leaves are two to four inches in diameter, opposite, pointed and double toothed. In the fall, leaves turn gold or bright red before falling. Like other maples, it has "helicopter" seeds. Flowers are white petals in small loose clusters emerging with the leaves.
Habitat
Common understory plant in coniferous forests, and in clear-cut or burnt-over areas. Dry to moist sites. Full sun to full shade; prefers some shade, but becomes leggy in deep shade. Useful as a riparian buffer to reduce erosion and enhance water quality.
Beneficial Uses
Provides valuable forage for deer and elk, and cover for deer, elk, birds, and small mammals. Flowers attract butterflies. Seeds and buds provide food for squirrels, chipmunks and birds. Straight long, stems traditionally used to make baskets while the wood was used to carve household utensils such as spoons, bowls and platters. The sap contains some sugar which can be made into a drink or boiled down for syrup. The wood was traditionally burnt to charcoal and mixed with water and brown sugar for the treatment of dysentery.